Nov 11, 2008
---
mom2halleyann
Donnessa, mom to Halley born 3/10/07
Reflux (mostly) resolved at 14 months
and Addison born 8/17/09. Currently exclusively bf and on 7.5mg Prevacid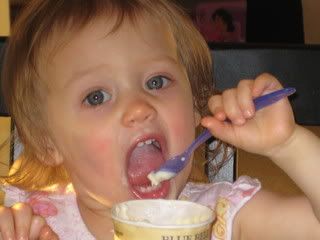 Jacky

Hi - I saw your post about Joslyn's poor sleep habits. Is she teething or showing signs of an ear infection? Those are the times that Halley was most likely to act like that. You may try giving her some Tylenol or Motrin before bed tonight and see if she rests easier.

It will get better...it was a LOOOOOOONG road for us, but Halley is finally sleeping through the night. I'm like you, I couldn't stand to make her cry for very long. One thing that helped was that I did not rush in there, we'd wait 5 to 10 minutes.
Nov 11, 2008
---
stickybean
I am Jacky, mommy to Joslyn Olivia (April 2008) and Katelyn Isabel (November 2009).
Joslyn was dx'ed with Silent Reflux with breath apnea at 5 days old. VERY SCARY!
Katelyn is a spitter reflux baby. Started at 3 days old as well. (Both were/are breast fed.. symptoms came on when my milk came in).
Joslyn has been reflux free since she was 12 months (suffered poor weight gain for a few months) and Katelyn is now on Zantac... waiting to see if it works.
Thanks! I am not sure what her problem is. She turns it OFF as soon as I pick her up. I was going to give her med last night (tylenol) but wanted to see if she would just sleep.... no luck there. I may try it tonight. I do try to let her cry for 5 mins. I tried the CIO thing a fre times and she went for 45 mins!!!! I could not take it anymore so I had to pick her up! Thanks again!
Nov 11, 2008
---
mom2halleyann
Donnessa, mom to Halley born 3/10/07
Reflux (mostly) resolved at 14 months
and Addison born 8/17/09. Currently exclusively bf and on 7.5mg Prevacid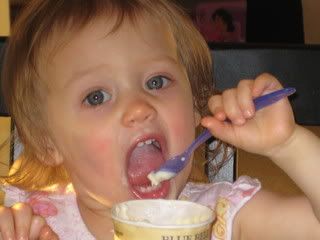 Halley was the same way...as soon as I picked her up, she was magically better. The only time she kept screaming after being picked up was if her teeth were REALLY hurting. I think I'd try the Tylenol (or Motrin if you want it to last longer than 4 hours) and see if she does better. From what I've heard both ears and teeth hurt much more laying down, so that's probably why she stops crying when you pick her up. We had a very similar experience when we tried CIO. She cried off and on for three solid hours. Sucked.

On the bright side, now that we've eliminated the ear problems and her teeth have come in, she sleeps through the night.
Nov 11, 2008
---
ethan's mom
Meridith
Mom to Ethan, born 4/23/08. Diagnosed with Reflux at about 1 month, started medicating with Zantac, which wasn't helpful for us. At about 2.5 months, we started on Prevacid, twice a day, and that is working much better.
Ethan is breastfed and has a few solids that he is enjoying very much.
I just wanted to pop in and say Ethan is up to the same tricks. He hasn't ever slept through the night, but would go 4-5 hours, wake to eat, and go right back to sleep, so it was manageable.

For the last few days, he only would sleep 1/2 and hour to 2 hours at a time! I finally let him cry it out last night, and hour and 15 minutes, with check ins, and then he did a little better throughout the night. He then slept three hours at a time, with no more crying sessions, just extra nursing.

I'm not sure how I feel about crying it out, but I am using it, and in my experience the first few nights are rough (we cry together, in different rooms), but then he does better. Of course with reflux, then we get off track when it flares, since I am not going to let him cry when there are signs of reflux pain or other sickness.

Just my two cents for what is worth. :)