Feb 19, 2007
---
blueleopard
Pictured: G'mom w/3 kids. I'm mom to 1 angel Melissa (dec'd 11/92 - hypoplastic left-heart syn.)
2 healthy daughters (knock wood) Cory (16), Kim (11) & Eric (4) diagnosed with e.e. (scoped 8/08), GERD & severe food/seasonal allergies, asthma. Cried non-stop first 17 mths. of life Found out he is allergic to cow's milk, soy, eggs, and peanuts. Takes Prevacid, Neocate One Plus & Flovent.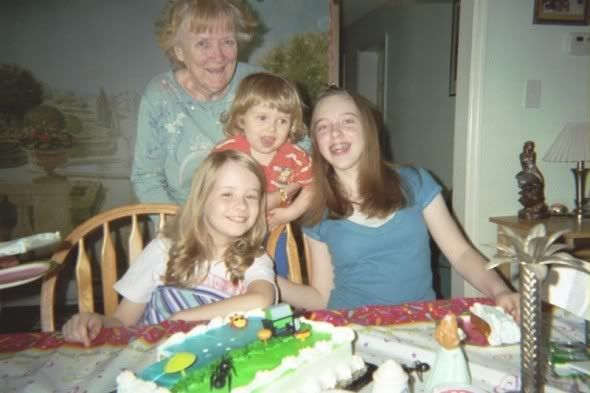 LES & growing out of reflux - questions, no answers

After waiting nearly a year for this reflux & (food intolerance?) thing to go away, and after reading postings on this website for over a month, I am beginning to realize that our family (and our baby boy) may be in for a very rough ride. I just finished reading "Heartburn & Reflux for Dummies" & I have some unanswered questions. I still feel like a dummy! I read that 9 out of 10 "happy spitters" grow out of this by one year. Info posted on this website seems to indicate that most babies will grow out of this by two. Of course, I am reading postings from all of you who haven't been so lucky. Why is two the magic number? If this LES flap relaxes when it isn't suppose to, why would it stop doing that at age two? This seems like more of a birth defect to me. Can food intolerances cause it to relax? What about repeated projectile vomiting (my son had pyloric stenosis at three weeks of age). I am shocked at all the complications caused by this condition & the lack of good treatments. I feel very sad that I cannot feed my baby like normal & that he is so small & unhappy.